Forthcoming 3-day Course Metal Sculpture – Practice and Process
1 August 2016
Continuing this popular programme of public courses, I will once again be running this 3-day creative metalwork course, taking place over 3 Saturdays in September 2016: 3rd, 10th and 24th. You will be working in steel in order to develop both a hands-on knowledge relating to the processes for sculptural fabrication, as well as a sculptural language in constructed metal for its own sake. This could result in linear and rhythmic forms in space, or volumetric and contained forms.
The course takes a maximum of 6 participants to ensure a high quality of teaching and student/teacher ratio. All materials and safety equipment provided. The course takes place in the superbly-equipped metalwork shop at Glasgow Sculpture Studios.
What participants say about the course:
"The course was brilliant. Joe makes complex and technical things seem simple. He manages the time well to ensure the best possible result for all students".
"Hot, busy, fun".
"Enjoyed that it was a relaxed atmosphere, freedom to explore equipment with assistance there when needed".
"Inspiring, exhilarating, eye-opening".
For further details please visit www.glasgowsculpturestudios.org
To book a place, contact linda@glasgowsculpturestudios.org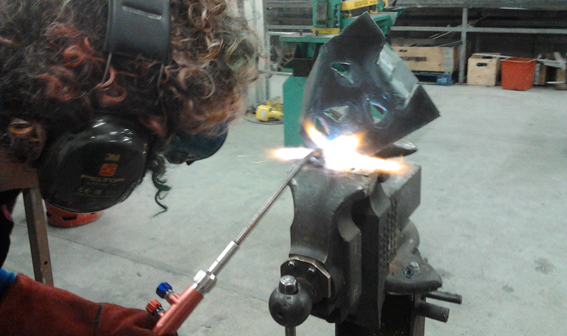 ← New work on show in 'Converge 2016′, Edinburgh
Treasure Trail Public Commission, Denny →